Creative evening of TV documentary and honorary journalist of Kazakhstan
admin
25.02.2020
No Comments
On February 21, in the framework of the implementation of the program «Ruhani Zhangyru» students of the Kostanay Polytechnic Higher College took part in the creative evening of the television documentary journalist and honorary journalist of Kazakhstan – Bekmukhamedova Gulzhibek Baekenovna. The event took place in the concert hall of the Philharmonic named after E. Umurzakov.
The contingent of participants was 20 people.
Workers from various departments, representatives of political parties, veterans, colleagues, friends gathered to congratulate the hero of the day, who owns dozens of remarkable documentaries made in portrait genre.
Guests of the evening watched with pleasure the performance of the best creative groups of the Regional Philharmonic named after E. Umurzakov and the Kazakh Drama Theater named after I. Omarov.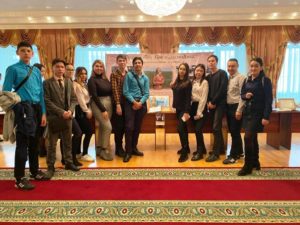 Information was prepared by the inspector for youth affairs Murzagalieva D.S