Qualification improvement courses of teachers
From 7 to 18 November 2016 on the basis of MSPE "Kostanay Polytechnic College" held training courses engineering-pedagogical staff of technical and vocational education program "Organizational-methodical aspects of transition to credit technology of training in technical and vocational education institutions."
On this subject have been training 65 trainees.
Teachers of special disciplines under the guidance of freelance trainers underwent two phases of training courses. Advanced training program is aimed at the development of innovative technologies based on credit educational programs aimed at the formation of professional competencies, taking into account the best international experience.
The course dealt with the development, adaptation and implementation of a new generation of educational programs based on the credit system, as well as competence-based approach. The program promotes a new generation of successful professional development of graduate competencies that will meet the new requirements of employers. All work courses lined up on the basis of the formation of a common vision of the credit technology to meet international requirements.
At the end of the courses held defense portfolio on knowledge of legal documents, organization of educational process on credit technology, the main planning documents prepared by taking into account the procedures and requirements which have been communicated during training.
At the end of the course participants had positive comments.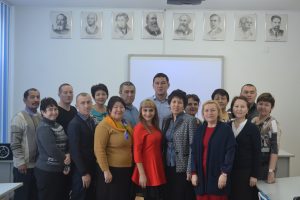 Information prepared by the Deputy Director of EP Butnarash OL