A meeting with police officers.
admin
04.03.2020
No Comments
On February 28, 2020, students of the Kostanay Polytechnic Higher College met with the head of the Kostanay City Police Department, police colonel Shubaev B.A.
The purpose of the event was the prevention of delinquency among young people.
During the event, the police colonel spoke about the state of crime in the regional center, noted that robberies, hooliganism, robberies and thefts became less frequent.
Summing up the event, police colonel Shubaev B.A. emphasized that the main criteria for the work of the police is the level of citizens' trust in the police, the fight against crime and the protection of public order.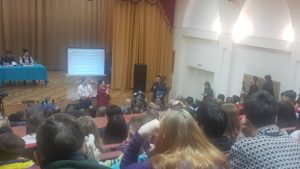 The information was prepared by teachers-psychologists Tulenova V.R.