Meeting with the inspector of the affairs of minors
admin
03.02.2020
No Comments
01/29/2020 – Students of Kostanay Polytechnic Higher College met the inspector of the affairs of minors, senior lieutenant N. S.Serikbaev. The Inspector held a preventive conversation with the students on the topic "Criminal responsibility of minors", "Administrative offense of minors". The contingent of event participants was 85 people.
During the meeting, the inspector familiarized students with the responsibility for the following types of crimes: theft, extortion, hooliganism, violation of public order. He also explained age of criminal and administrative liability and told what punishments are applied for committing illegal actions.
At the end of the conversation, students received answers to their questions.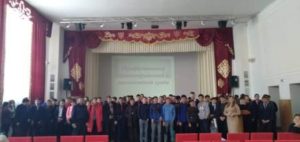 Information prepared by social educators A. Khasenova, Tazhitaeva A.S.