Vocational guidance
Александр Давыдов
10.09.2018
No Comments
Meetings with school students and their parents for the purpose of acquaintance of pupils with specialties and rendering the information and consulting help in choice of profession can be one of the forms of the system vocational guidance that influencing on self-determination of youth.
At the beginning of the academic year the teacher of the college Bazhirova Shattyk has met with the pupils of the 9th forms and their parents of school № 20 Kostanay city. Children were interested in conditions of entering to the budgetary education and in free preparation on all specialties.
It is possible to judge about high-quality training of our students by their participation in projects of regional and republican level. For example, the fourth year student Viktor Godynenko, using skills and skills acquired in college, repeatedly helped the project "Life in the palm of your hand". The student prepared materials for final concerts, recorded and mounted video and audiofiles, prepared videos for the show, sounded. This year Victor has made several videos devoted to work of the project. One of the presentations at the regional contest of social initiatives fairs helped the project "Life in the palm of your hand" to take the first place in the region and to obtain a grant for 1.000.000 tenge, which will be used to rehabilitate the sick children of our region. Now video will submit the project at the republican level.
Third-year student Tokushev Diaz, participating in the project for the development of the youth corps «Zhasproject», developed a business plan for the implementation of the "IT sphere" project and won a grant for 1.000.000 tenge, which will be used for free computer literacy for participants from 6 years old and older.
Students' knowledge is provided during the educational process by professional educators who are among the best, whose achievements are confirmed by awards and diplomas. So the teacher of the 1st category of Kontrobayeva Zhanat for her achievements in teaching and pedagogical activity was awarded a diploma «The best teacher» at the regional level and in 2018 and will take part in the republican contest.
Entering at the Kostanay Polytechnical Higher College, graduates will not only receive a diploma of education, but they will learn how to independently acquire knowledge from sources of popular science literature, engage in design and research activities, and independently apply skills in the organization of enterprise matter in the sphere rendering services.
Information about the specialties of the college is available on the website of the college. On the site there is a photo excursion in 3D format for classrooms of the college, in the online mode there is a "question-answer" rubric.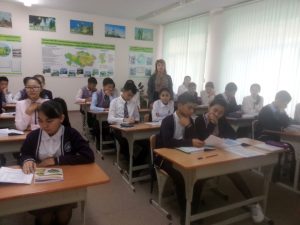 Prepared by Segizbaeva Ai-Gul Seralievna, candidate of biological science