Happy birthday, college!
admin
17.04.2018
No Comments
On April 11 was a curatorial hour, dedicated to the birthday of the college.
The purpose of the event: inculcation of spiritual and moral values ​​for students, development of moral and ethical qualities, a sense of love and pride in their own profession and hometown, fostering respect for the older generation and contributing to the continuity of generations in a modern market economy.
During the curatorial hours videos were shown about the history of the college, interviews were conducted with college teachers and a quiz «My College is my pride». The curatorial hour began with congratulations and a college hymn. The event was attended by former graduates, teachers, students, numerous guests – all those who started their career in the walls of this professional school.
Congratulations to all graduates, students, employees on this significant date! We wish you success, prosperity and a good spring mood! Kostanay higher polytechnic college is 47 years of success in education!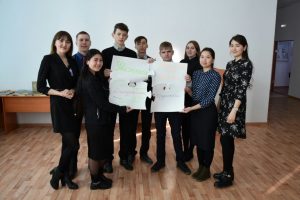 The article was prepared by the teachers Mukat A.K. and Muslimova Zh.M.