Meeting with Bukanov Sairan
admin
07.03.2018
No Comments
05.03.2018 – Students of Kostanay polytechnic higher college attended meeting with director of LLP "Karkyn" and knight of "Kazakhistan Enbek Yeri", Bukanov Sayran in the Reguonal universal scientific library named after L.N.Tolstoy.
The purpose of the event was to popularize entrepreneurship, show the necessity of an active life position, enterprise, dedication and creative approach to work, promote the development of small and medium-sized businesses.
Sairan Balkenovich shared his biography with students, told the students about the growing of cereals, the production of meat and milk, gave practical advice on building small and medium-sized businesses, and answered the students' questions.
At the end of the meeting, Sairan Balkenovich gave a blessing to all the youth and reminded that work is the fundament of life and prosperity of the country's economy.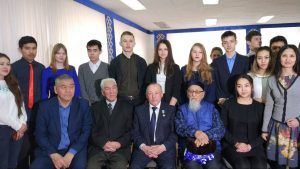 The information was prepared by the teacher-organizer Pushkareva A.V.